If you envision a destination wedding that combines natural beauty, romance, and a touch of magic, consider Costa Rica as your ideal choice. This vibrant Central American country offers breathtaking landscapes, warm hospitality, and a wide range of luxurious wedding venues. Among these, Castle Of Oz in Jacó stands out as a fairy tale setting that can turn your dream wedding into reality.

In this blog post, we'll guide you through the process of getting married in Costa Rica and explore the captivating beauty of the Castle Of Oz.
Costa Rica - A Tropical Paradise
Costa Rica, known for its stunning beaches, lush rainforests, and diverse wildlife, is a tropical paradise that offers a unique blend of natural wonders and modern amenities. It's an attractive destination for couples seeking an unforgettable wedding experience.

Whether you desire an intimate beach ceremony or a grand celebration surrounded by verdant hills, Costa Rica has it all.
Castle Of Oz - A Luxury Wedding Venue
Nestled in the charming town of Jacó, Castle Of Oz is a luxury wedding venue that embodies the charm of a fairy tale castle. Its majestic architecture, sprawling grounds, and enchanting ambiance provide an idyllic backdrop for an unforgettable wedding celebration. Pristine gardens and breathtaking ocean views make it a haven for couples seeking a romantic and magical setting.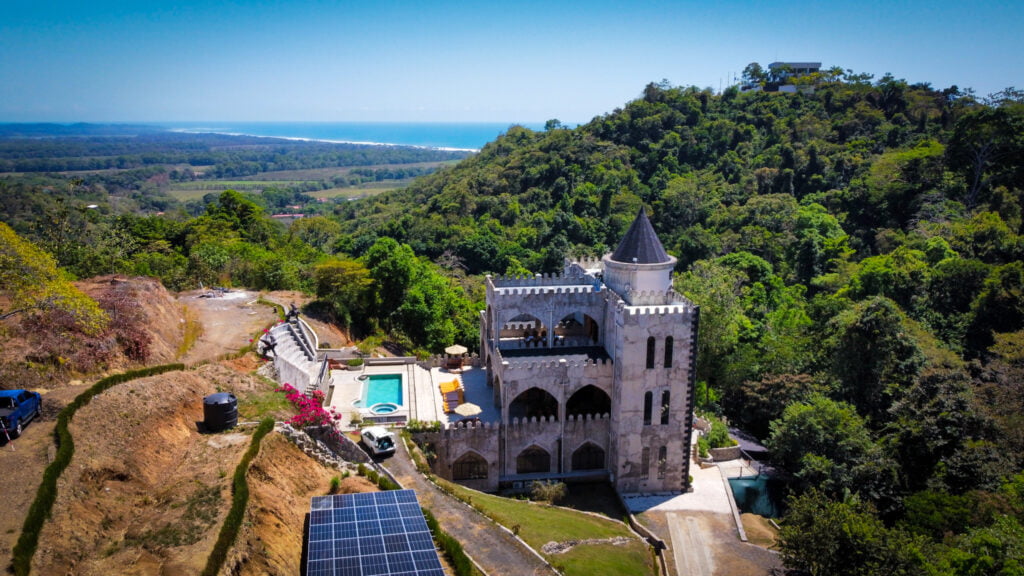 Understanding the Legal Requirements
Before tying the knot in Costa Rica, understanding the legal requirements is essential. Non-resident couples must provide certain documents, including passports, birth certificates, and affidavits of single status. These documents must be translated into Spanish and notarized. Additionally, couples are required to have two witnesses present during the ceremony.

Working with a wedding planner or coordinator who can assist you with the legal process is advisable.
Contact Us if you need help with the legal process
Creating Your Dream Wedding at Castle Of Oz
To create your dream wedding at Castle Of Oz, careful planning and attention to detail are essential. Start by discussing your vision and preferences with the venue's event coordinator. They will help you navigate the various options available, from selecting the perfect ceremony location to designing a reception that reflects your style.

Castle Of Oz's team of experienced professionals will assist you in coordinating vendors, arranging catering, and creating a memorable experience for you and your guests.
One of the many advantages of getting married in Costa Rica is the opportunity to immerse yourself in its awe-inspiring natural beauty. From breathtaking waterfalls and lush rainforests to golden beaches and stunning sunsets, this tropical paradise offers endless possibilities for capturing magical moments on your special day. Castle Of Oz, with its panoramic views and idyllic surroundings, provides a perfect vantage point to admire and cherish the country's natural wonders.
Get married in Costa Rica is a dream come true for couples seeking a destination wedding filled with romance and natural beauty. Castle Of Oz in Jacó offers a fairy tale setting that perfectly complements the country's enchanting ambiance.

From the legal requirements to planning your dream wedding, every aspect is taken care of to ensure a seamless and unforgettable experience.

Let Costa Rica's charm and Castle Of Oz's allure make your wedding day truly magical and create memories to last a lifetime.